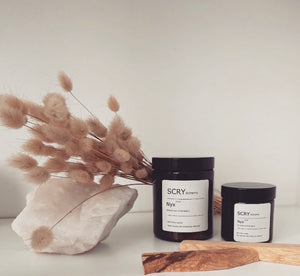 We are Scry Alchemy.
We create 100% natural aromatherapy Intention and Manifestation Coconut Wax Candles, Melts, Reed Diffusers, Room Mists, Palm Calm Rollers and energy cleansing apothecary.
We only use 100% Eco Coconut wax and natural plant based oil blends & Pure Essential Oils, no additives, no nasty. We are vegan, cruelty free and we ethically source using recyclable or reusable amber jars, recycled labels and eco packaging.

Our collection consists of ten perfectly synergised alchemical blends, Cast, Nyx, Sunday, Selene, Eos, Eden, North, Santa Ana, Halo and Home Fires.
Shop now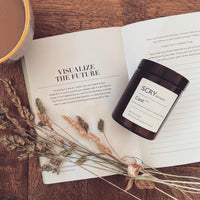 Manifest your desires.
Each blend uses a unique Earth alchemy of natural herb, floral oils, bark and plant to spiritually and physically support positive affirmation and healing.  Burning them sets a Spiritual scene in preparation for the manifestation of your true desires.
Our Future.
Together we can be part of something bigger. For every order, together we plant a tree. Each order creates a sapling donation to Tree Nation who support us to plant trees across countries where deforestation threatens its future. You'll receive an email with every order with a link to our own forest where you'll automatically change our eco future, one tree at time.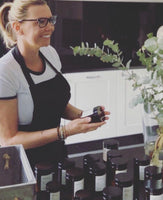 Burn well with intention.
Follow us on Instagram and share your photos.